Title:
Me Before You
Author:
Jojo Moyes
Series:
Me Before You #1
Genres:
Romance, Realistic Fiction, Adult novel
Publisher:
Pamela Dorman Books/Viking
Source:
Hardcover
Pages
: 369
// Add to GoodReads /
/
Amazon //
BLURB:
Lou Clark knows lots of things. She knows how many footsteps there are between the bus stop and home. She knows she likes working in The Buttered Bun tea shop and she knows she might not love her boyfriend Patrick. What Lou doesn't know is she's about to lose her job or that knowing what's coming is what keeps her sane.

Will Traynor knows his motorcycle accident took away his desire to live. He knows everything feels very small and rather joyless now and he knows exactly how he's going to put a stop to that.

What Will doesn't know is that Lou is about to burst into his world in a riot of color. And neither of them knows they're going to change the other for all time.
I actually saw the movie posters for the adaptation of this book a while ago. My mom's friend who is a huge book reader basically shoved this book into my hands and told me to go and read it. So that's what I did. Going into it I didn't have any expectations except that this book makes reader cry and let me tell you by the end of this book I had to go grab some tissues.
THE WORLD: The world is exactly like our world. The plot takes place in the year 2009 mostly, but we also have a little time jumps to the future and past. But yeah the characters live in a rather small town in England that has only one attraction - a medieval castle in the middle of the town. I have to admit I did not pay much attention to the name of the town, so I cannot be more specific than that, sorry.
CHARACTERS:
Before we jump into the character I would like to clear few things up. It might sound from my opinion about the characters that I did not like this book, but trust me, I really really really loved this book, it's just that I had difficulties relating or actually caring about some of them. Okay let's start.
So the main character of this story is
Louisa (Lou) Clark
. She is super funny, super witty and has a problem of not being able to keep her opinion to herself. She has a really specific fashion sense and from reading how she was dressed in the book or how Will describes her, Lou's clothing style would be very colorful, totally mismatched color tones or sizes so in other other words - super interesting.
Then we have
William Traynor
or simply just Will. He got into an accident in 2007 so when we meet him he has been a quadriplegic for two years already - which means that he cannot move a muscle below his neck. Therefore, he is moody, and has a bad temper, he doesn't want to do or is interested in anything apart from judging Lou and watching weird foreign movies, or this is only what the book wants you to believe! When Lou is hired to basically keep Will company, they do not have much of a relationship and it's so funny how they go back and forth with sarcastic and bitter phrases toward each other. Really it's hilarious! But eventually when they rub on each other you get to know that Lou is not just a shallow big mouth village girl and that Will is not a rich snob. They are both very deep, beautiful and amazing people that care for each other. I really did enjoy their chemistry, it was well written.
Other character that I really liked was
Nathan
- Will's nurse. He is basically the only person Will opens up too until Lou comes around. I think Nathan is a great character. He understands Will, he understans in how much pain he is on a daily bases, how much Will suffers inside that he has to be taken care of 24/7. I really fell in love with Nathan and Will's bromance.
Now let's perhaps move towards the characters I did not really like so much. We have the
Traynor family.
The parents:
Camilla
and
Steven
.They have their own issues and I kind of enjoyed reading about them. You can actually fell how Will's accident affected them personally and how they both are dealing with it. The mother in my opinion was a great character, she reminded me a lot about this other character I created for a thing me and my friend used to write, because you just see how heartbroken she was about her child (Will) being in so much pain. Will also has a sister
Georgina
, but to be honest this character is a horrible one. She was like in two pages of the book in general and seemed more interested about a lamp then her brother basically being unable to breath on his own. I dunno I found myself not even caring about her at all.
The Clark family
: They are just a normal middle class family unlike the Traynor's who are like super rich. The dad
Bernard
and the mom
Josephine Clark
were too much for me at times, because it seemed like they loved their younger daughter
Katrina (Treena)
way more than Lou and when you start the novel you really feel pissed when they only talk about money and how Treena is a God's child and so smart and stuff. I found myself rolling my eyes a lot, especially when the perfect Treena had to drop out of college because she got pregnant and now has a 5 year-old son
Thomas
. I dunno I just didn't like her at all, she was super annoying. I mean sure by the end of the book all the characters had a certain place and you could feel how the Clark family loved each other. I guess every family has it's issues but if they are there when you need them that's the most important.
Also we have Lou's boyfriend of seven years -
Patrick
. He is a personal trainer and is obsessed with running and being the marathon king or something. I actually found Patrick to be the type of person who cares when things revolve around what he cares. He wasn't a bad character he just wasn't much of a character in general. We also a number of these character in the book: Will's ex-girlfriend
Alicia
who marries his best friend
Rupert
after Will gets into the accident. To be honest, they don't play that much a role in the book, but are merely a reminder of how Will's life used to look before the accident.
LOVE: Forgive me for this but prepare yourself for my long rant about love in this book. Love in this book broke my mortal human heart. Okay so basically it goes down like this. Lou is with Patrick but after some time she realizes that she's in love with Will, and the only thing Will cares about or stands in this world is Lou!
Let me tell you dear readers, this book got me right in the feels! I really cannot say too much without spoiling you everything but let me just say this - Lou loves Will so much she would do anything to save him and his hurting soul and Will loves Lou so much that he would never allow her to be with a person like him. Hearts breaking, tears falling, cannot simply handle it anymore!!!!

Of course there is different kind of love in this book - love of friends and love of a family. As I said you really can feel a mother's love in this book, love of a supportive family and just simple love that friends share.

PLUS: The topic itself. While reading about how society accepted and was adjusted to the needs of people in wheelchairs or people like Will who cannot move at all I actually felt ashamed of myself because I felt like Jojo Moyes described me and my reaction to handicap people. I always try to help them out, I hold the door, their bags or ask if I can help in any way but I still feel sorry for them and really they are not different and society today should really not even have to ask if they need assistance, every building should be accommodated to their needs.

Also there is one other topic that if I tell you I would spoil you the read so I won't tell you. But it also made me think quite a lot about what would I do in such situation.


MINUS:
The only minus that I have for this book is actually related to the characters, the Clark Family. I just don't know why but their attitude towards Lou made me so angry. Lou had to be the break winner for their family, work low payed jobs, not go to school just so she could help out to pay for bills and Thomas. I mean I really disliked Treena so much for her attitude 'Oh I can't work I have school and a kid'. Of course, I have to admit by the end of the book, you do see the strong connection the entire family shares, but yeah you really need to have patience to push through.
OVERALL:
Overall, I LOVED this book, mainly because of Lou and Will. You know I tried to come up with some funny review but the thing is that this book was so emotional to me. At times I did really just put it down and just stare outside the window and just imagine Will and Lou talking and just being together. Maybe that's why it cut me so deep is that you get to see how these two people slowly fall in love without even realizing it. How they cannot life without each other, and actually how this crazy feeling we call love does really not know any boundaries.
p.s. this is basically me reading this book: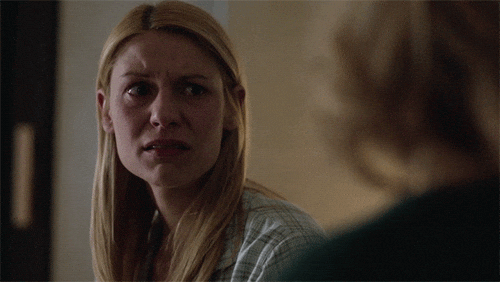 So if you have read this book let me know so we could discuss it and if haven't, you should go and pick this one up straight away!


What did you think of ME BEFORE YOU?